July 10, 2014

Get your contemporary art on this coming Saturday by attending The Flats Block Party. An all-day artpacked event: eight galleries, eight artist talks, four exhibition openings, the launch of a satellite exhibition space, and an exhibition of a unique collection of photographs from the 1800's to the present. With so much to see and do you may be worried on how to devise a strategy to take it all in. Fret not, the lovely galleries of the flats have organized the day so that the events are staggered and roll into one another. One can take nearly everything in by starting their artstravaganza tour at high-noon on Great Northern Way. Want to learn more about the participating galleries and artists, visit The Flats Official Site. The event runs from noon until 8pm.
If that wasn't enough to convince you to head over to The Flats this weekend, perhaps Marina Roy's review of Jordy Hamilton's exhibition that channels the spirit of Popeye, monochromatic abstraction, and cubism will get you going.  Saturday will be the last day to see this exhibition, and Jordy Hamilton will give a talk about the work at 5pm.
In the words of the comic icon himself, adopt a simple strategy to taking on The Flats Summer Block Party, "I'll take you all on one at a time. A-gah-gah-gah-gah-gah-gah!"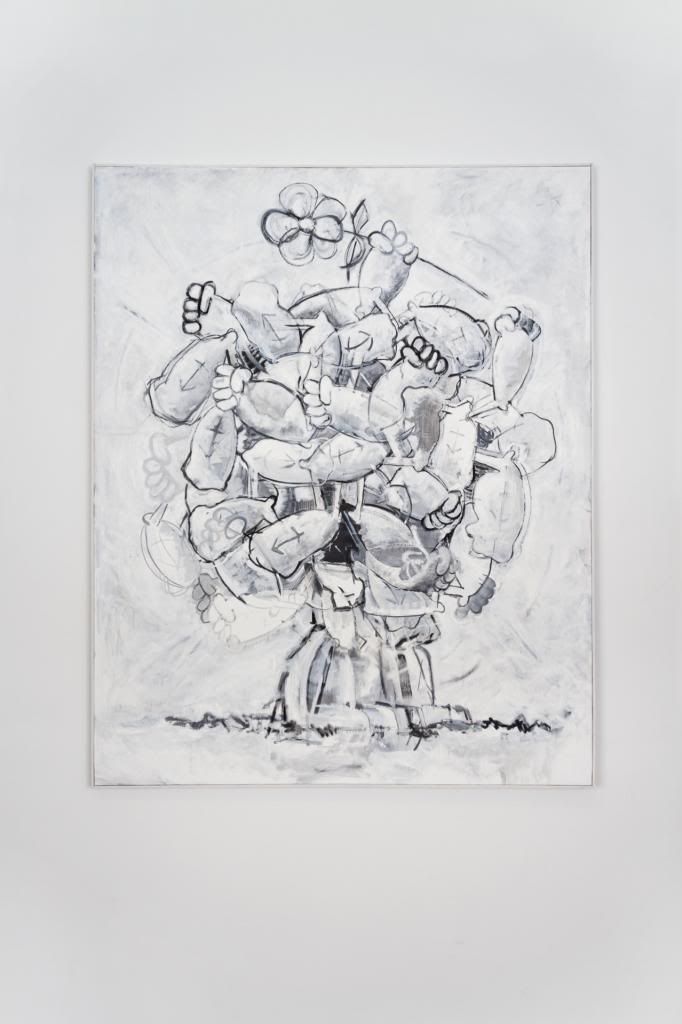 A short review of Jordy Hamilton's exhibition by Marina Roy:
"The hair of the dog?  To fight fire with fire?  A spike with a spike, networks with networking, institutions with institutionalisms?  Power with the accumulation of power? Strikes with strikes, violence with violence, class with class?  Escapism with escape… Art with art?  What means justify what end?  For the self? The career? The family? The nation? The world?  All's fair in love and war, right?  Sorry, he says, but it's all for my love Olive!
A small selection from a larger body of new paintings, this show stems from a single image cartoon of Popeye The Sailor Man. The cartoon's relation to the depiction of time, repetition, violence, and love inspired the series. The paintings are constructed using a simple system. Right fist or left fist?  Back of the hand or front of the hand? White paint or black paint?"1
Considering so many of Vancouver's commercial art galleries are exhibiting a love affair with abstract painting of late, I was pleased to visit Jordy Hamilton's exhibition at Wil Aballe's Art Projects space. One is confronted with a melee of trunks and limbs over and over again—in each painting, the repeated motif of the body morphing into a tree of Popeye forearms (with a solitary flower held up in a fist2 managing to remain unscathed up top), ground smashing up against figure, sincerity struggling with cynicism. One almost gets the sense that the artist's painterly practice is not entirely comfortable with itself, to the point of self-mockery, and it doesn't pull any punches either when it comes to its assessment of the art world. Although this is of course my interpretation (with a little help from the artist statement above). I see an irreverence in Hamilton's work that might not be entirely legible at first sight, but I also see a search for something deeper dwelling in the paint. One can detect humour in his "flogging-a-dead-horse" painting strategy, and in the apologetic and self-deprecating title that greet us at the front door.